The World of Phyllis Haylor and Ballroom Dancing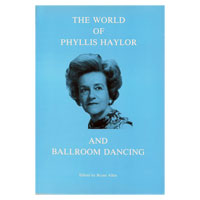 Product code: 103
Regular Price (inc VAT): £9.00
log in to benefit from member pricing
Stock availability: 22
Product summary:
Edited by Bryan Allen
Product description:
A collection of Phyllis Haylor's best and most valuable writings, which offer the reader her favourite steps and figures, together with numerous pictures of famous dancers to illustrate the English Style.
Includes an appreciation by Josephine Bradley MBE, foreward by Mary Clarke, Editor "Dancing Times", prologue and epilogue by Nerina Shute.
© 1984 ISTD.
Other recommendations that you may like
Black and white edged with Faculty colour