IMPORTANT NOTICE ABOUT SHOP SERVICES
Due to the closure of the building our shop will be unable to process new orders.
If you have already placed an order: We will dispatch your item as soon as possible after regaining access to the on-site shop. Alternatively we can cancel your order and offer you a full refund. Apologies for the inconvenience and please do let us know which you would prefer. Email us on sales@istd.org
The Theban Plays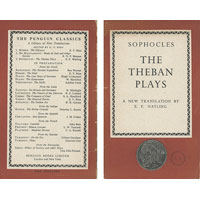 Product summary:
(Ex Library) Sophocles - new translation by E.F. Watling
Product description:
Penguin Classics. First published in 1947.
The legends surrounding the royal house of Thebes inspired Sophocles to create a powerful trilogy of mankind's struggle aginst fate.
KING OEDIPUS tells of a man who brings pestilence to Thebes for crimes he doesn't realise he has committed, and then inflicts a brutal punishment on himself. It is a devastating portrayl of a ruler brought down by his own oath. OEDIPUS AT COLONUS provides a fitting conclusion to the life of the aged and blinded king, while ANTIGONE depicts the fall of the next generation through the conflict between a young woman ruled by her conscience and a king too confident in his own authority.
---
Sophocles was born in 496 BC. His long life spanned the rise and decline of the Athenian Empire. He wrote over a hundred plays, many of which are published as Penguin Classics, drawing on a wide and varied range of themes.
E.F. Watling translated a range of Greek and Roman plays for Penguin, including the seven plays of Sophocles and the tragedies of Seneca.