IMPORTANT NOTICE ABOUT SHOP SERVICES
Due to the closure of the building our shop will be unable to process new orders.
If you have already placed an order: We will dispatch your item as soon as possible after regaining access to the on-site shop. Alternatively we can cancel your order and offer you a full refund. Apologies for the inconvenience and please do let us know which you would prefer. Email us on sales@istd.org
The Cambridge Companion to Chopin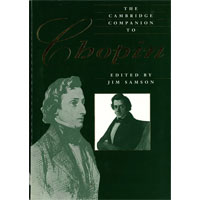 Currently unavailable
Product code: 2000_Samson
Product summary:
(Ex Library) Edited by Jim Samson
Product description:
The Cambridge Companion to Chopin provides the enquiring music-lover with helpful insights into a musical style which recognises no contradiction between the accessible and the sophisticated, the popular and the significant.
Twelve essays by leading Chopin scholars make up three parts. Part 1 discusses the sources of Chopin's style in the music of his predecessors and the social history of the period. Part 2 profiles the mature music, and Part 3 considers the afterlife of the music - its reception, its criticism and its compositional influence in the works of subsequent composers.
Published in 1992 by Cambridge University Press.