IMPORTANT NOTICE ABOUT SHOP SERVICES
Due to the closure of the building our shop will be unable to process new orders.
If you have already placed an order: We will dispatch your item as soon as possible after regaining access to the on-site shop. Alternatively we can cancel your order and offer you a full refund. Apologies for the inconvenience and please do let us know which you would prefer. Email us on sales@istd.org
High Albania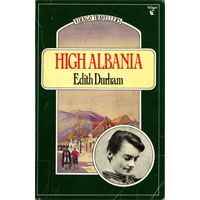 Product summary:
(Ex Library) By Edith Durham
Product description:
Edith Durham, 1863-1944, explored the Balkans in the 1900's and 1910's. She did this on her own, learning the languages and cultures in her middle age, traveling and living under primitive conditions, with the constant threat of violence, disease, and war as World War I loomed and the Ottoman Empire finally disintegrated.
Her books are a combination of anthropology, travelog, and voice of political reason (calling for self-determination of the many Balkan groups, wishing for tolerance among them, and restraint of the major powers meddling in the region).