IMPORTANT NOTICE ABOUT SHOP SERVICES
Due to the closure of the building our shop will be unable to process new orders.
If you have already placed an order: We will dispatch your item as soon as possible after regaining access to the on-site shop. Alternatively we can cancel your order and offer you a full refund. Apologies for the inconvenience and please do let us know which you would prefer. Email us on sales@istd.org
German Song by Elisabeth Schumann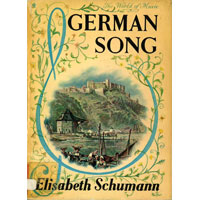 Product summary:
Illustrated book about German lieder
Product description:
Elisabeth Schumann (1888-1952) was a German lyric soprano who sang in opera, operetta, oratorio, and lieder. She was closely connected with Richard Strauss, Otto Klemperer, Lotte Lehmann, Bruno Walter, Wilhelm Furtwängler, and other leading musicians of the first half of the 20th century.
Towards the end of her life, she wrote this short book about German lieder entitled German Song, which was translated from German to English by D Millar Craig.
Beautifully produced, the book was printed by Nederlandsche Rotogravure Leiden in Holland and contains 72 pages, including four colour plates and 41 black and white illustrations, and is bound in colour-printed paper-covered boards.
First published in London in 1948 by Max Parrish and Co Limited. Hardback.