IMPORTANT NOTICE ABOUT SHOP SERVICES
Due to the closure of the building our shop will be unable to process new orders.
If you have already placed an order: We will dispatch your item as soon as possible after regaining access to the on-site shop. Alternatively we can cancel your order and offer you a full refund. Apologies for the inconvenience and please do let us know which you would prefer. Email us on sales@istd.org
Caribbean New Voices 1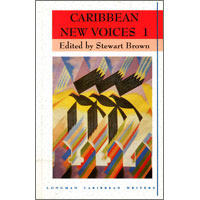 Product summary:
(Ex Library) Edited by Stewart Brown
Product description:
This is a collection of the work of new Caribbean writers. The series comprises many classic novels, short stories and plays by the best known Caribbean authors, together with works from new writers. Works include:
Jump Up and Kiss You By F. B. Andre
Dying Breed By Terrence Clark
Burnt Hill By Christine Craig
Six poems By Al Creighton
The Captain's Last Breath By McDonald Dixon
Caney By Garfield Ellis
The Teacher By Zoila Ellis
Seven poems By Howard Fergus
Eight poems By Michael Gilkes
Ancestors By John Gilmore
Seven poems By Stanley Greaves
Five poems By Judith Hamilton
The Lottery By David Jackman
The Nature of the Beast By Keith Jardim
Wiltshire Car Dead By Ras Michael Jeune
Islander's Wallet By Anthony Kellman
Remy the Writer By Jane King
Promising to Cook By Earl G. Long
Full Stop By Alecia McKenzie
I Do Not Take Messages from Dead People By Pauline Melville
My Mother was a Splendid Teacher By Sasenarine Persaud
Butterflies By Jennifer Rahim
Five poems By Lawrence Scott
Five poems By Patricia Turnbull
Cats in the Eyes of the Pig By N. D. Williams
Published by Longman Group Limited in 1995.