IMPORTANT NOTICE ABOUT SHOP SERVICES
Due to the closure of the building our shop will be unable to process new orders.
If you have already placed an order: We will dispatch your item as soon as possible after regaining access to the on-site shop. Alternatively we can cancel your order and offer you a full refund. Apologies for the inconvenience and please do let us know which you would prefer. Email us on sales@istd.org
Aesthetics: an introduction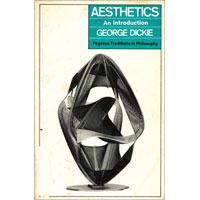 Currently unavailable
Product code: 2000_Dickie
Product summary:
(Ex Library) By George Dickie
Product description:
This book is an introduction to aesthetics, from the perspective of analytic philosophy. It traces aesthetics from its ancient beginnings through the changes it underwent in the eighteenth, nineteenth, and the first half of the twentieth century. The responses in the 1960s of the cultural theories to these earlier developments are discussed in detail. Five traditional art evaluational theories, Beardsley's and Goodman's evaluational theories, and the author's own evaluational theory are presented. Four miscellaneous topics are discussed - internationalist criticism, symbolism, metaphor, and expression.
Pegasus Publications (October 1971).