Line & Country Western Licentiate Exam Guide notes for Couples Freestyle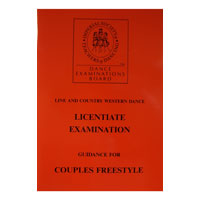 Product description:
The information contained in this book gives brief details of the selected dances to be studied for the Licentiate Country Western Examination. To fully understand this work, these notes should be used combined with the training from a professional, experienced in teaching Western couples Freestyle Dance.
© 2002 ISTD.