Latin American Graded Examinations 1 to 6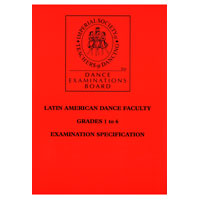 Product code: 207
Regular Price (inc VAT): £7.50
log in to benefit from member pricing
Stock availability: 11
Product description:
From the introduction:
These General Grade examinations, produced by the Latin American Faculty, provide a sound system of training that may be used for students who are pusuing dance as a leisure activity, or as a foundation for a future professional career. Progression through the six grades promotes both a knowlege and performance of sound technique, together with an appreciation of the various styles of the Latin American dances.
In preparing candidates for the general grade examinations, teachers are recommended to study the official Latin American technique books, in particular, those pages that preceded the charts. These books were compiled by the Latin American Faculty and as such are a reference to enable teachers to develop the rhythm and character of the dances in their pupils at all levels.
Other recommendations that you may like
By Helen Wingrave, Robert Harrold & Conchita del Campo