Imperial Classical Ballet - Primary, Grades 1 & 2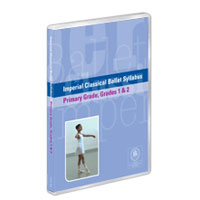 Product code: 790
Regular Price (inc VAT): £30.00
log in to benefit from member pricing
Stock availability: 106
Product summary:
A DVD for students of Imperial Classical Ballet, Primary, Grades 1 & 2
Product description:
Music Composed by Paul Stobart. Pianist & Music Recorded by Debbi Parks.
Filmed at Performers College, Essex
Filmed and Edited by James Hudson
Production Assistant Christopher Hudson
Special Thanks to Adagio School of Dance, Essex, Angela Allport Performing Arts School, Essex, Linda Shipton School of Dancing, Suffolk
© 2010 ISTD.