Classical Greek Vocational Graded Examination Syllabus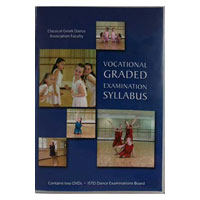 Product code: 891
Regular Price (inc VAT): £65.00
log in to benefit from member pricing
Stock availability: 34
Product description:
The Classical Greek Graded Examination Syllabus on DVD – contains two DVDs
Primary - Grade 5: OLD WORK
Grade 6: CURRENT WORK
Pianist and composer: Roz Jennings
Produced by Missing Link Productions.
Production team for CGDAF: Kay Ball, Sonia Bond, Cynthia Carr, Karen Collings, Alison Seddon, Carol Vasko.
© 2006 ISTD.