Modern Ballroom Music for General Grade Examinations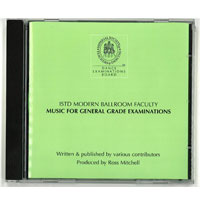 Product code: 130
Regular Price (inc VAT): £25.00
log in to benefit from member pricing
Stock availability: 17
Product description:
1. It Could Happen To You - Johnny Burke/Jimmy Van Heusen: Famous Music Corporation
2. Satin Doll - Ellington/Mercer/Strayhorn: Famous Music Corporation/Tempo Music Inc.
3. There's A Small Hotel - Rogers/Hart: Warner Chappell Music Ltd.
4. On This Special Night - Burley/Mitchell/Wilson: Copyright Control
5. Exactly Like You - Dorothy Fields/Jimmy McHugh: Shapiro Bernstein & Co. Inc. New York
6. Lullaby of Birdland - George Shearing/George David Weiss: Planetary Norm (London) Ltd. London W1
7. In London Town - Burley/Mitchell/Wilson: Copyright Control
8. Once In A While - Bud Green/Michael Edwards: EMI Miller Catalogue Inc.
9. Orlando's Hideaway - Burley: Copyright Control
10. Nice Work If You Can Get It - George Gershwin/Ira Gershwin: Chappell & Co. Ltd.
Produced by Ross Mitchell
Recorded at ICC Studios, Eastbourne
© 2004 ISTD.
Other recommendations that you may like