Cecchetti Classical Ballet Music for Intermediate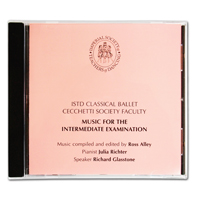 Product code: 682
Regular Price (inc VAT): £25.00
log in to benefit from member pricing
Stock availability: 517
Product summary:
Cecchetti Classical Ballet Music for Intermediate
Product description:
Music for the Intermediate Examination
Music compiled and edited by Ross Alley
Pianist Julia Richter
Speaker Richard Glasstone
Julia Richeter, GRSM, ARCM, PGCE, studied at The Royal College of Music.
She was Head Pianist at The Royal Ballet School and has performed as soloist at
The Royal Opera House for the School's annual performance, including Shostakovitch Piano Concerto No. 2.
Her other recordings include the Cecchetti Grade Examinations.
© 2012 ISTD.