Tap Technique - Glossary of Terms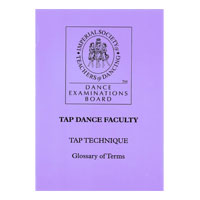 Product code: 1178
Regular Price (inc VAT): £6.00
log in to benefit from member pricing
Stock availability: 52
Product description:
This item is included in "A Textbook on Tap" by Moyra Gay (ISTD shop item 1176).
Original Glossary of Terms in Tap Technique compiled by Zelia Ray, Founder of the Modern Theatre Dance Faculty. Revised and extended Glossary of Terms 1990. Reprinted in 1995, 1997 and 2000 (with amendments).
© 2000 ISTD
From the preface:
"From these terms which one might compare to the piano, simple scales are formed. Rhythm and quality of tone must be stressed as one gradually advances to complicated rhythms. In this lies the secret of good composition." - Zelia Raye