Lola's Fandango with Storytime CD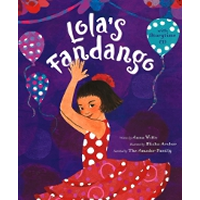 Product summary:
Lola's Fandango with Storytime CD written by Anna Witte
Product description:
Lola lives in a small flat with her Mami, her Papi and her older sister Clementina. Clementina is taller than Lola. She has lots of friends and she is good at everything. Lola wants to be good at somthing too. So when she finds a beautiful pair of dancing shoes while rummaging around her mother's wardrobe, she has an idea. Could she learn to dance? And could she persuade her Papi to teach her, without her Mami or her sister finding out?
This charming story of individuality includes cultural notes about flamenco dancing and a simple Spanish glossary. With an audio CD narrated by The Amador Family and accompanied by original flamenco music.
Written by Anna Witte
Illustrated by Micha Archer
Narrated by The Amador Family