French-English Dictionary of Technical Dance Terms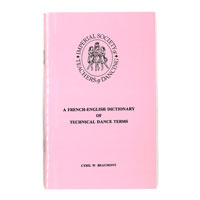 Product code: 1701
Regular Price (inc VAT): £5.00
log in to benefit from member pricing
Stock availability: 266
Product summary:
By Cyril W. Beaumont
Product description:
From the Preface:
This little dictionary of technical terms has been compiled soley for the use of students of dancing. French is the language of the dance, and it is essential that students should fully understand the meanings of the terms they employ, particularly as that knowledge often takes them half-way towards the execution of a step or movement.
To make this work as concise as possible, I have refrained from citing the names of steps combined with such familiar adverbial qualifications as: de côté, en avant, en dehors, etc; for this would only lead to tedious repetition. The student who wishes to ascertain the meaning, for instance, of assemblé en avant will look up assemblé, then en avant.
The terms are arranged in alphabetical order in accordance with their familiar nomenclature; for instance, pas assemblé will be found under assemblé, while pas de bourrée will be found under pas. In compiling this list of terms I have cast my net wide and not limited myself to those in use by any particular school or method.
At the end of the book will be found a few general rules respecting grammar. These must not be regarded as comprehensive of the French language. I have only given such of the rules which bear upon words likely to be encountered in connection with the art of classical ballet. In conclusion, I desire to record my indebtedness to my friend, Mr. de V. Payen-Payne, for his many valuable suggestions.
First published 1931.
© 1980 ISTD.
Other recommendations that you may like
By Dr Margaret Gajewski