European Folk Dance: It's National and Musical Characteristics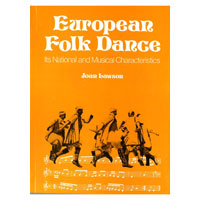 Product code: 1275
Regular Price (inc VAT): £13.00
log in to benefit from member pricing
Stock availability: 23
Product summary:
By Joan Lawson
Product description:
With illustrations by Iris Brooke. Originally published in 1955 by Sir Isaac Pitman & Sons Ltd.
---
From the introduction:
This survey traces the development of all aspects of folk dancing from the earliest to comparatively modern times, and will help readers to understand how dances express a people's origin, character, lives, customs, and traditions. The dances of the various countries are dealt with in detail and historical reasons are given for their similarity or difference. Special attention is paid to the relationship between the dances and their music, particularly in those countries where some musical characteristic helps to further the national style of dancing. Many exmaples of steps and dances with their music are included for the practical guidance of the dancer. The book is published under the auspices of the Imperial Society of Teachers of Dancing, whose National Dance Brance committee.
Joan Lawson is exceptionally well qualified for the task as she has been teaching History of Ballet and European Folk Dance at the Royal Ballet School for many years. She is Vice-Chairman of the National Dance Branch Committee and writes for The Dancing Times and otehr publications.