Tap Grade 4 - Chapter 1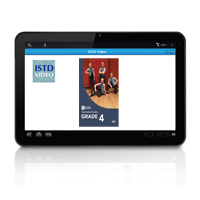 Product code: Video Download
Product summary:
Download to your mobile device or laptop.
Product description:
ISTD Grade 4 Tap - Chapter 1

Bouncy Warm Up
Close Work Warm Up
Techinical Exercises A: Shuffles
Riffs & Cramp Rolls
MP4 Video / Length 07:16
Featured dancers: Isobel Webb, Mackenzie Conlon, Saffron Hamilton-Gill, Saona Lovell, Kai Scanlan.
Dance Schools: SJ Academy of Dance and Petersfield Academy of Dance.
Choreographers: Alison Forrester, Tracey Lee, Jason di Mascio.
Voiceovers: Jackie Hayward adn Alison Forrester.
Filmed at The Apex Theatre, Bury St. Edmonds.
Filmed & Produced by James W. Hudson.
ISTD Video editing by Sarah Clarke.
Professional use only. Copyright protected. Not for resale or copying. © ISTD 2016
ISTD Video
Our video downloads offer a way to quickly access syllabus material that you can download and easily view. Save them on to your mobile device, iPad or laptop or add them to your iTunes library to watch at your leisure.
You can also view a guide on how to purchase and download your video.
The videos are also available for purchase as part of complete DVDs through the main ISTD Shop at https://shop.istd.org/shop/dvds.