Modern Theatre Adv 1 - Track 26: Step Vocabulary Kicks & Leaps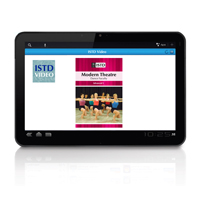 Product code: Video Download
Product summary:
Download to your mobile device or laptop.
Product description:

Track 26: Step Vocabulary Kicks & Leaps
MP4 Video / Length: 01:38
ISTD Modern Theatre Advanced 1 Syllabus
Dancers: Erica Jane Alden, Saffron Armstrong, Alice Ballantyne, Martha Blackwood, Edward Chitticks, Seng Henk Goh, Ryan Goodrum, Lewis Herring, Louis Jackman, Stavrina Kousparou, Sophie Mernson, Shannon Peberdy, Elizabeth Pitt, Terrance Ryan, Nathan Saxon, Briony Scarlett, Kyle Walker, Natalie Wilmhurst. Choreographers: Sue Brice, Barbara Evans, Carrie-Anne Ingrouille, Katie Morea, Nikki O'Hara, Lyn Richardson, Tereza Theodoulou, Sarah Wilson.

Filmed at: Rochester Dance Junction. Filmed by: Mike Alan Video Productions. Thanks to Bird College, The Centre for Performing Arts, Laine Theatre Arts. Music for Boys' Floor Sequence – Oli Freke. Professional use only. Copyright protected. Not for resale or copying. © ISTD 2016
ISTD Video
Our video downloads offer a way to quickly access syllabus material that you can download and easily view. Save them on to your mobile device, iPad or laptop or add them to your iTunes library to watch at your leisure. You can also view a guide on how to purchase and download your video.
The videos are also available for purchase as part of complete DVDs through the main ISTD Shop.