IMPORTANT NOTICE ABOUT SHOP SERVICES
Due to the closure of the building our shop will be unable to process new orders.
If you have already placed an order: We will dispatch your item as soon as possible after regaining access to the on-site shop. Alternatively we can cancel your order and offer you a full refund. Apologies for the inconvenience and please do let us know which you would prefer. Email us on sales@istd.org
Sophocles: The Three Theban Plays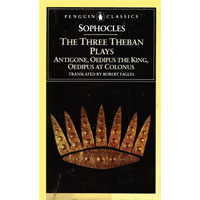 Product summary:
(Ex Library) Antigone; Oedipus the King; Oedipus at Colonus
Product description:
Translated by Robert Fagles. Introduction and notes by Bernard Knox.
Penguin Classics, printed 1984.
Towering over the rest of Greek tragedy, these three plays are among the most enduring and timeless dramas ever written.
Robert Fagles' translation conveys all of Sophocles' lucidity and power: the cut and thrust of his dialogue, his ironic edge, the surge and majesty of his choruses and, above all, the agonies and triumphs of his characters.