Popular Variations in Latin American Dancing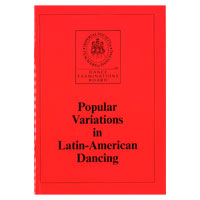 Product code: 201
Regular Price (inc VAT): £9.00
log in to benefit from member pricing
Stock availability: 576
Product summary:
Edited by Elizabeth Romain
Product description:
© 1982 ISTD.
From the Preface:
This book includes the 'Popular Variations' originally published in 1972 and 1976 and additional popular variations shown at courses since then. They are figures that have stood the test of time and are an excellent basis for many modern variations.
Candidates for the Fellowship examinations of the latin American branch of the ISTD will be expected to have a teaching knowledge of two of these variations of their own choice in each dance.
The descriptions are given as a guide; slightly different interpretations will be acceptable. It will be noted that some descriptions alignments are included; these are also a guide to facilitate easy learning. For the same reason a teaching count has been given in place of the rhythm where this has a more practical value.
A few slight amendments have been made to some of the original 'Popular Variations'.
Other recommendations that you may like
By Helen Wingrave, Robert Harrold & Conchita del Campo