IMPORTANT NOTICE ABOUT SHOP SERVICES
Due to the closure of the building our shop will be unable to process new orders.
If you have already placed an order: We will dispatch your item as soon as possible after regaining access to the on-site shop. Alternatively we can cancel your order and offer you a full refund. Apologies for the inconvenience and please do let us know which you would prefer. Email us on sales@istd.org
LA Salsa Technique Book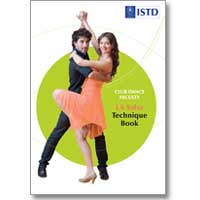 Product summary:
Club Dance Faculty LA Salsa Technique Book
Product description:
These study notes have been compiled for the Club Dance Faculty of the ISTD.
This book should be used in conjunction to The Salsa Study book.
Salsa Technique & Study Books - Special Offer!
Save up to £8 on the full series of Salsa books:
1 book – £12
2 books – £22 (save £2)
4 books – £40 (save £8)
To buy more than one book and make a saving, please call the ISTD Shop on +44 (0)20 7377 1577 or email sales@istd.org.