DDE Course Book Unit 3 - Lifespan Development & Learning in Dance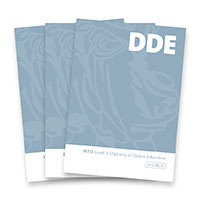 Product code: 905
Regular Price (inc VAT): £16.00
log in to benefit from member pricing
Stock availability: 12
Product summary:
Second edition
Product description:
This Course Book fulfills the requirements of Unit 3 - Lifespan Development and Learning in Dance for the Foundation in Dance Education.
The aim of this unit is to provide basic information on the important and common aspects of lifespan development and learning essential for students studying to become dance teachers. The Course Book is designed to be relevant to all types and ages of dancer you may experience, including full-time and part-time studentrs, preofessionals or extra-curricular students etc.
© 2005 ISTD Dance Examinations Board